Get Involved
G. H. Pape Foundation and Staff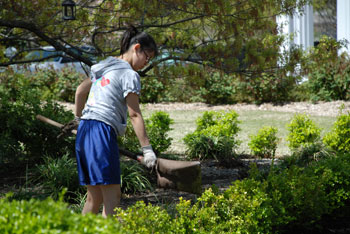 Earle-Harrison House & Pape Gardens is owned and operated by the G.H. Pape Foundation. The G. H. Pape Foundation was founded in 1956 by Nell Jurgen Pape in honor of her husband, Gustaav Hermann Pape. When Mrs. Pape died in 1988, she left a generous endowment to the foundation which is invested for general funds to support the foundation's mission. Rental, portrait and tour fees are applied to the property's maintenance and preservation projects. Financial or material donations are welcomed and appreciated.
As a non-profit 501(c)(3) organization, the foundation maintains Earle-Harrison House and its 5.82 acre gardens as a central part of its mission to preserve Earle-Harrison House & Gardens to benefit the citizens of Waco, McLennan County, Texas through historical preservation, beautification and education.
Waco citizens serving on the 2012 G. H. Pape Board of Directors are: Rick Bostwick, George Chase, Becky Lindsey, Jennifer Lindsey, Jim McDermitt, H. Lewis McReynolds, John Schwartz and Russell Trippet.
Kathy Riggs has been employed as Property Manager since May 2005. Greg Riggs performs gardening and maintenance duties for Earle-Harrison House & Pape Gardens, he volunteered prior to being hired after retirement in 2008. Kathy and Greg enjoy the many varied tasks that care of the property entails, including but not limited to garden care; all facets of weddings, receptions, and special events; house tours, and historic preservation of the buildings and their contents. The Riggs also manage an active group of community service volunteers and laborers who perform many hands-on aspects of maintaining the property and helping with events.
Monetary or Material Donations and Memorials
2005-2006: $22,000.00 – Riggs family – wood fence, various cottage additions & repairs, cement pads for tent, 225 wood chairs
2007: $2,500.00 – Getterman Foundation – funds to repair and paint the garden shed
2008: $5,000.00 – Lu Billings in memory of her husband Rex Billings – plants for garden;
$10,000.00 – Trechia Pinchefsky in memory of her maternal grandparents Leland & Ruby Kilgore – plants for garden;
$500.00 – Fifteen friends, in memory of Etta Tilley – 2 mosiac stepping stones, mosiac bench, 10 Fairy rose bushes;
$1,500.00 – Hatch Bailey – donation to general fund;
$150.00 – Steely family, in memory of their maternal grandfather (a nurseryman) – magnolia tree;
$1,150.00 – Riggs family – punch bowls, silver urns for rental inventory
2009: $150.00 – Rene Davis, Colors of Texas – magnolia tree;
$1,000.00 – Hatch Bailey, in honor of Mr. & Mrs. Hack Branch, Mr. & Mrs. Dan Hull, Mr. & Mrs. Rondy Grady, Mr. Don Sharp – donation to general fund;
$100.00 – Joan Neuhaus – donation to general fund
2010: $500.00 – Hatch Bailey, in memory of Ms. Camille Hudson Easley
2011: $275.00 – Magen Leigh Price, Asher Creek Photography – framed bridal portrait for display in the cottage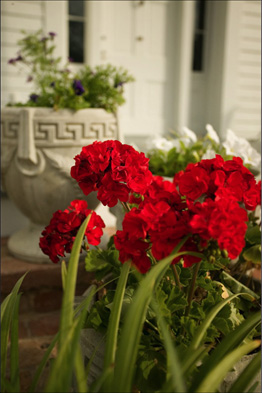 Volunteers Always Welcome, Experience or Expertise Not Required!
Earle-Harrison House & Pape Gardens is a lush, beautiful, and serene haven in the middle of Waco. Volunteers help us to meet our mission of preserving & sharing Waco's oldest house and gardens, and this assistance is needed and appreciated. Spend time getting your hands dirty, on your schedule. There are garden beds to be developed, along with the usual weeding, deadheading, and seed planting tasks performed year-round. Do you like to clean? Рwe have an endless supply! It's always more fun to help clean someone else's house and can be especially enjoyable at our place! Or learn to give house tours Рtraining provided Рthese tours are a wonderful opportunity to meet a variety of people while allowing visitors to gain insight into long-past times and lifestyles.
Unpaid intern opportunities exist – museum studies, history, marketing, horticulture and event planning are applicable.
Most weekends Earle-Harrison House & Pape Gardens hosts events: setup help is always appreciated – participate in making a family's wedding/reception a day to remember by helping with the many tasks that are required to create a seemingly-effortless event.
Earle-Harrison House & Pape Gardens accepts Community Service Volunteers from Baylor University, McLennan County Juvenile Probation Program and all local junior and senior high schools, age 12 and up. BU's Steppin' Out program also helps with some spring planting in the gardens.
Our staff works alongside volunteers which gives us an opportunity to learn a bit about each other while also sharing information and work skills. Volunteers are asked to bring a lunch, their volunteer service form, wear comfortable shoes and dress appropriately for the weather. Cell phones are to be used to call for a ride home only, ipods and mp3's with earphones are okay for most assignments.
Diligent, dependable volunteers have the opportunity to be hired as event staff members once their community service hours are completed.
Submit the quick contact form on this page, or call Kathy at 254-753-2032 for more information, or to be added to our volunteer calendar.