Gardens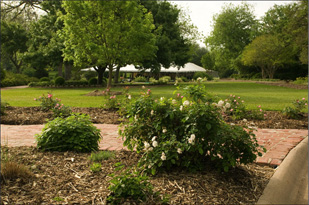 Because our benefactor Nell Pape loved gardening, Earle-Harrison House is surrounded by 5.82 fenced acres of manicured lawn and gardens. Earle-Harrison House was sited to face the gardens rather than facing 4th St. as it did before its relocation in 1967.
Pape Gardens are an interpretation of how grand the garden could have been – and now is. Mrs. Pape's vision was not to recreate the home's original minimal frontier landscaping, she chose instead to develop an elegant, large-scale garden to fit the house's stature.
Landscaping began with the house's restoration in 1969, but expansion of the garden occurred as adjacent land became available for purchase with most of the major development completed by 1980. Landscape architects Hal Stringer and J. Robert Anderson were Pape Gardens' principal designers.
The garden's formal and informal beds and garden rooms nestle into large expanses of lawn. Antique brick and concrete walkways allow guests to easily stroll the entire garden. A double gazebo, a large tent and many shaded areas on the property are spaces perfect for gatherings, photography or solitary meditation. A variety of beds are planted with perennials, annuals and shrubs. 499 varied species of roses are planted on the property.
Each year plants are added to the property as areas are redesigned. Organic, water-wise gardening techniques are employed. The City of Waco's Parks & Recreations Dept. supplies tons of mulch each year. Large-scale compost piles are reintegrated back into the garden beds & winter lawn. Since 2005 irrigation has been reduced by one-quarter by simply adding 4″-6″ of mulch to all the garden beds.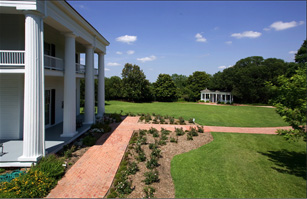 Plant additions are mostly all native or low-moisture varieties that will provide long-term bloom or ease of care.
Water catchment is a part of the garden's long-range planning. The gardens are proof that a beautiful, chemical-free garden is possible even with a small staff to care for it.